Species: Totoro
Sex: Female
Weight: 360g
Age: 4Y
Attending doctor: Li Wenjie
Main complaint: Crush injury in cage, found that chinchillas had hindlimb fractures that penetrated the muscle layer, and had been examined in other pet hospitals. X-ray examination was diagnosed with a fracture of the middle tibia and repaired with internal fixation. Intramedullary nails were filled and fixed. , Re-examination after one month, the effect is not good and transferred to our hospital for treatment. The tibial shaft softened, the wound was purulent and infected, facing amputation, and finally the owner requested surgical repair.
Clinical consultation: The chinchilla's mental state is acceptable, and there is no abnormality in heart and lung auscultation. Appetite and bowel movements are normal.
Laboratory examination:
X-ray: X-ray examination is as follows, no other organs are abnormal.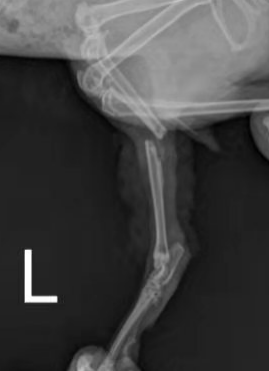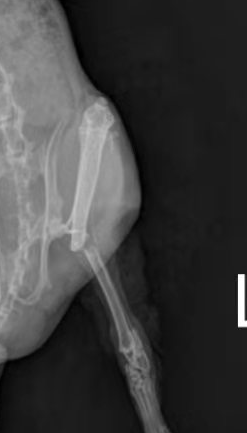 Before the first operation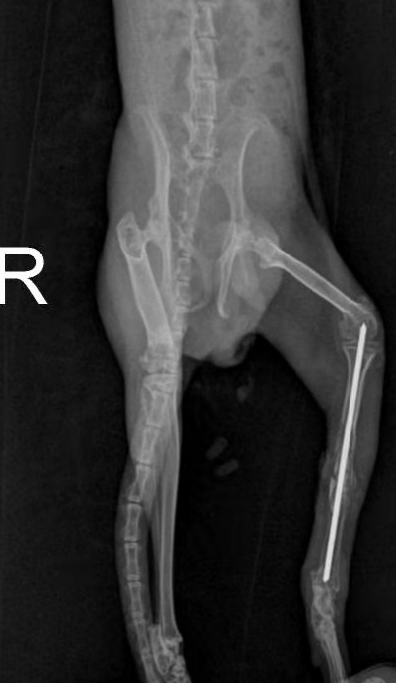 Imaging examination one month after the first operation
Brief description of surgical steps: 
a.Debridement treatment;
b. Trim the skin edges, and partially soften the tibial backbone;
c External fixation bracket (bone softening with osteomyelitis)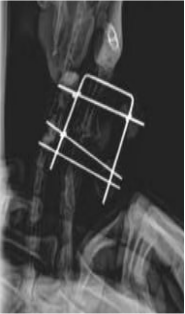 Long-term callus reexamination 1 month after operation