Type: Border Collie
Age: 2 years old
Weight: 20 Kg
Attending doctor: Chen Chaolun
Main complaint: I jumped from a height a few days ago, and then my right foreleg appeared in pain and could not touch the ground. Nothing else was abnormal.
Clinic: Right forelegs are overstretched and the weight-bearing pain is obvious
Laboratory examination:
X-ray: Dislocation of the wrist-carpal joint on the left wrist (Figure 1a, Figure 2b). No other abnormalities were observed.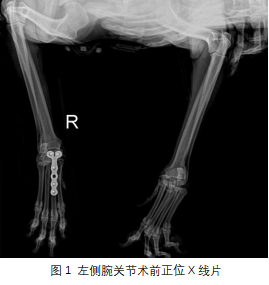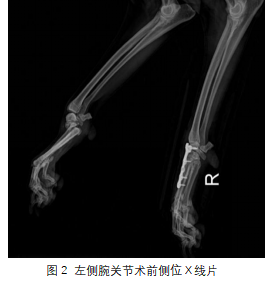 Other preoperative examinations: no abnormalities in blood routine examination results, no abnormalities in biochemical examinations (GLU, CREA, BUN, ALT, ALKP, ALB, TP), no abnormalities in coagulation factors (PT, APTT)
After operation:
After the operation, Robert Jones bandage was applied to the dog to control bleeding and swelling, and a dog-specific wristband was used to stabilize the wrist. The wristband was used for about 6 weeks. Postoperative movement was restricted. The animal owner must cooperate with the chest strap to reduce the weight. It is recommended to review every 4 weeks until the bone heals. The dog's X-ray film was reviewed after operation, and the joints were well fixed (Figure 3, Figure 4). The dog returned to normal after 2 months, and is currently in good condition and exercising normally.